Coir Pith Briquetting Machine
5 Kgs / 650 Grams
Ace Hydraulic Baling Presses is suitable to baling meterials like cotton, waste cotton, paper etc. in various bale weight. Our baling press is very easy to operate and economical.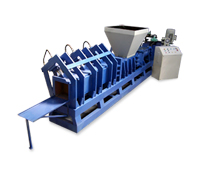 Coir Pith Block Specication
Block Size
Block Weight
Power
Production
Operation
300mm x 300mm x 100mm
5 Kgs
20 HP
120 Bricks/Hour, 140 Bricks/Hour
PLC Control Fully Automatic
Machine Special Features
The Press Frame is fabricated with tested quality plate
Rigid construction for trouble free running
The Systems includes for necessary Power Pack comprising Motor & Pump, which are mounted on the Power Pack
Directional Control Valve, Non-Return Valve, Pressure gauge, Pressure Switch, Limit Switch and Safety devices etc. are mounted on their Oil tank for the convenient Operation, Maintenance and easy Circulation of Oil.
Hydraulic circuit is designed for smooth and trouble free Operation
We are using Hard Chrome Plated and Ground Piston Rods which are made out of medium carbon steel Cylindrically ground for accuracy, for long seal life, hard chrome plated for damage and corrosion resistance.
We are using Honed Tubes finished under 0.4 RA value for smooth operation of the Cylinder and long seal life.
We are using piston with large bearing area, pilot fitted to the Piston rod and locked it.
The Cylinder assembly is completely with Rod Seal, Wiper Seal, Piston Seal and 'O' rings to give leak proof operation. All oil seals and 'O' rings used are reputed make.