Hydraulic Cylinders
Tie-Rod Cylinders
Tie-Rod Cylinders manufactured by Ace Automation, conform to all international quality standards. The components used in our cylinders has contributed to long life and dependability. Standard Tie-Rod Cylinders can be supplied with in short period. We also deliver Tie - Rod cylinders on customised specification as per the customer need.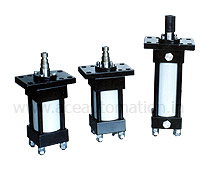 Specication
Bores: 2" Up to 30" (50 mm to 750 mm)
Pressure: Up to 5000 PSI (350 bar)
Temperature: -60° F to 600° F (-50° C to 300° C)
Polyurethane Rod Wipers
Self-Adjusting Packing
Streamlined, Sturdy, Dependable.
Features
Long life
No end thrust
Minimum friction
Low maintenance
Designed for easy packing replacement
Rugged, air or hydraulic design